Eagle Music Shop is based in the tranquil setting of Armitage Bridge, Huddersfield, Yorkshire. We are a family business headed by family members Steve Noon and Rachel Price. Our extensive showrooms are packed with all your traditional musical needs. Please do give us a call before making a special journey to the shop if you are wanting to look at something in particular. Our shop is very busy and the stock changes daily.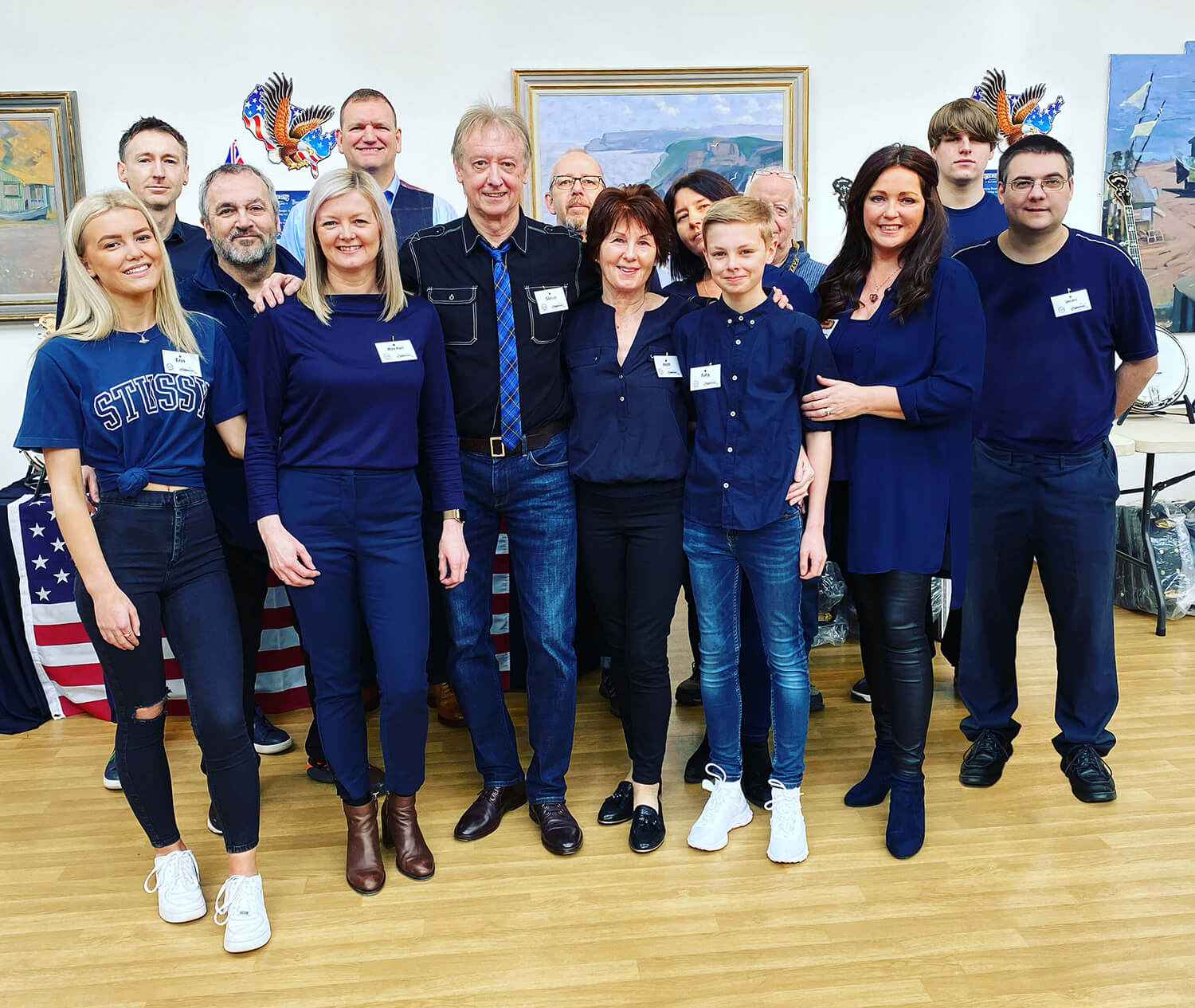 You have a choice with Eagle Music Shop, you will be made most welcome if you visit our shop & showrooms or you can simply buy online with confidence and get the same quality, price and personal service, in-house workshop set-up instruments at the best internet prices. Our ever growing range of traditional and Celtic musical instruments and accessories is second to none. For sheer value for money you can buy with confidence from Eagle Music, the UK's largest Tanglewood Stringed Instruments Specialist. We also offer all the high quality Eastman guitars and Eastman mandolins range. Plus many more top brands including Collings, Martin, Faith, Sigma to name a few.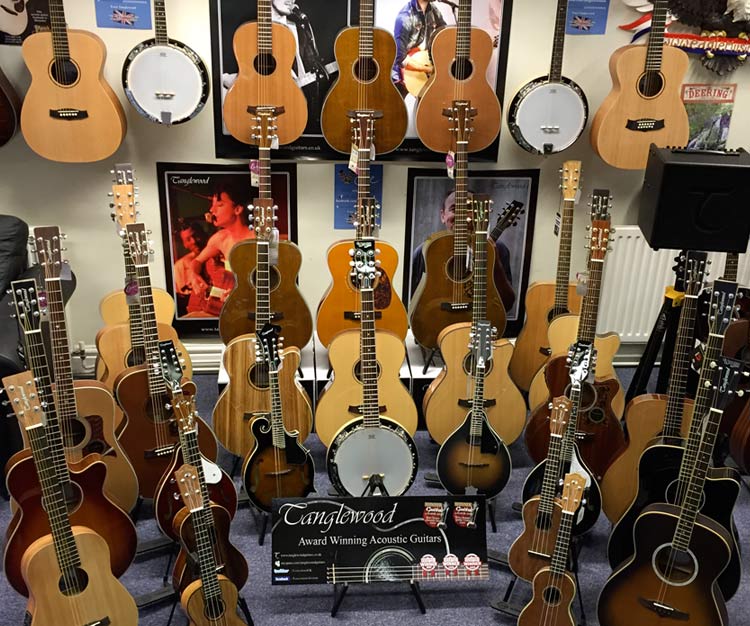 For world class banjos from America you need to look no further than our superb range of Deering Banjos, hand built in Spring Valley, California. We are a Master Dealer for The Deering Banjo Company and are officially their No.1 international retailer, so you can buy from us with peace of mind knowing that you are getting the very best quality, price and guarantee on 5 string banjos, tenor, plectrum and guitar banjos. The choice of high class banjos continues with brands such as Ome, Stelling and Prcuha.
Fiddles, harmonicas, mandolins and bouzoukis are here in plenty, all backed up by our friendly personal service. Before dispatch to our customers all instruments that we supply undergo stringent bench tests and set up by our instrument technicians in our in-house workshop, including playing action, intonation and tuning at no extra cost.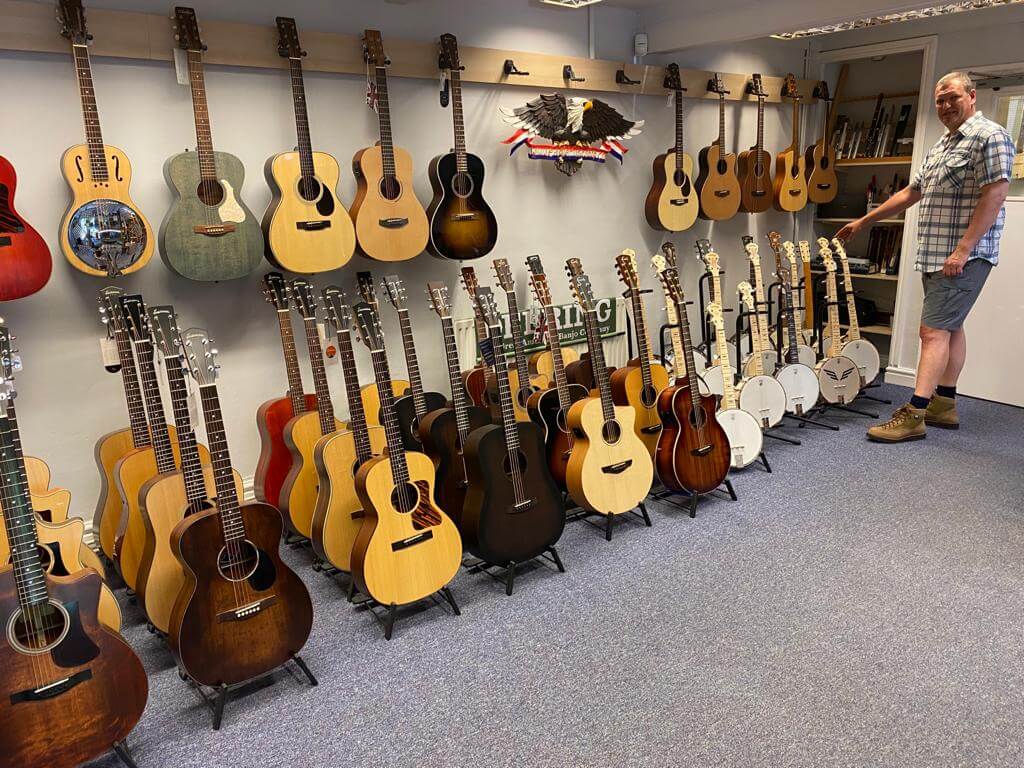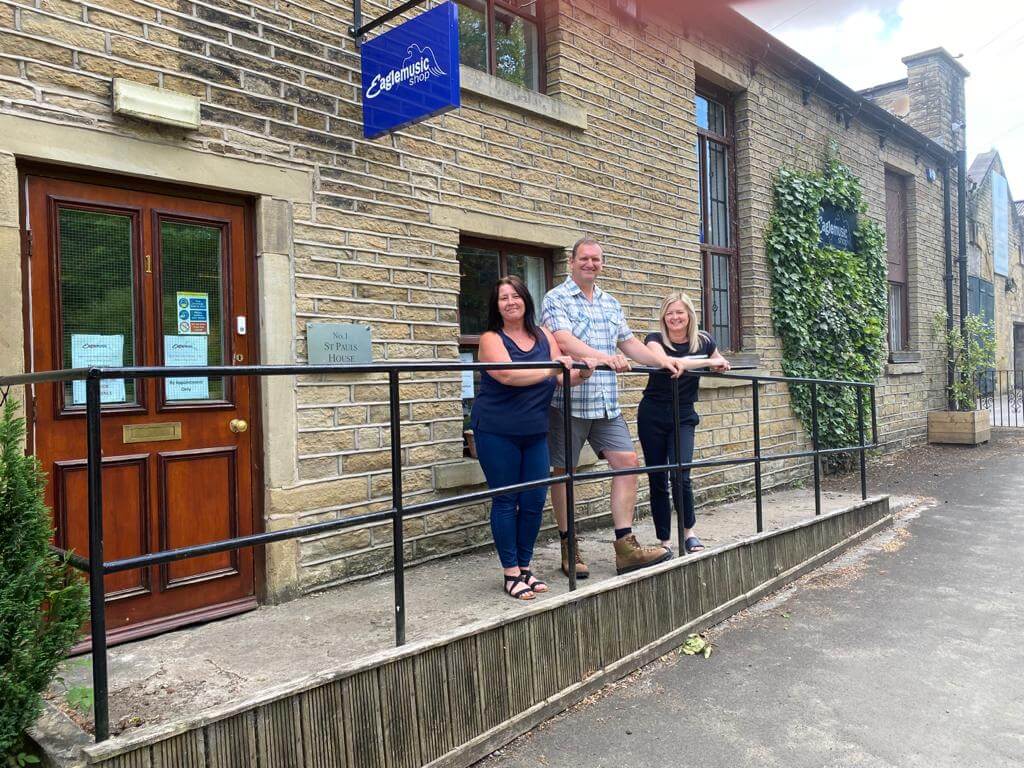 As a family owned business, our dedication to you is quality, service and the best prices in the UK. At Eagle Music Shop we have a history of over fifty years in the music industry, including fifteen years in the musical instrument retail and wholesale business. Our wealth of knowledge is offered to you throughout the website with detailed information and technical advice.
Our shop is just two miles from Huddersfield town centre and travel directions are easy.
Take the A616 out of Huddersfield (signposted Sheffield, Holmfirth, Honley). There are major signs for Yorkshire Technology Park indicating a right turn down a short steep stretch of road, Stockwell Hill (just after the Laxmi Indian Restaurant). Cross the bridge - single lane - (beware of oncoming traffic) then turn left up Bank Foot Lane and immediately sharp right into the car park. We are at the bottom of the car park directly opposite St Pauls Church and next door to The Bridgewood Trust Craft Workshop.
Where to find us
Eagle Music Shop
1 St Pauls House, Brooke's Mill
Armitage Bridge, Huddersfield
West Yorkshire
HD4 7NR
United Kingdom
Telephone: 01484 661460
Email: enquiries@eaglemusicshop.com
Opening Times
Bank Holidays May 2023
Monday 29th May - Shop Closed


Shop Open
Mon-Fri, 9:30am to 5:00pm
Sat, 10:00am to 4:00pm
Phone Lines Open
9:30am to 5:00pm Mon-Fri