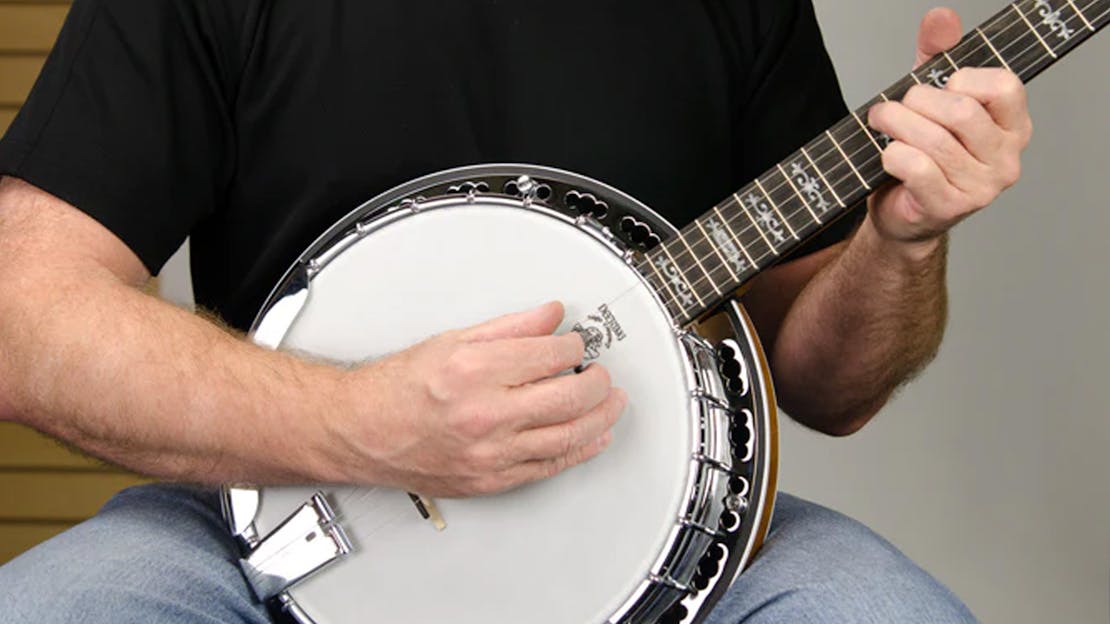 Banjo Buying Guide
Whether you are looking to start playing a 5-String Banjo in Bluegrass style, Open Back Banjo in the Old Time, Frailing or Clawhammer style, 4-String Tenor Banjo in the Irish or Jazz style or a Plectrum Banjo for chord accompaniment and Jazz and other styles, Eagle Music will help you to make the right choice.
Original article written by Steve Noon, founder of Eagle Music, 2004
There are three critical but simple decisions that you should make when buying a banjo:-
Buy from a Specialist Company, a company that will set up the instrument correctly. Eagle Music is Europe's unrivalled leading banjo specialist shop.
Buy the Best Quality instrument, that is within your budget. Eagle Music carry Europe's largest selection of world class banjo brands.
Choose the Correct Banjo, for the kind of music that you want to play. Eagle Music's specialist musician sales team will ensure that you make the correct choice
The notes below will help you choose the banjo that is the right model for you.
Types of banjo and the kind of music that is played on them
There are many types of banjo that have been designed to suit specific kinds of music, these banjos will in general have either four, five or six strings. However, there are crossovers where one particular type of banjo can be suitable for more than one genre of music. We shall try to keep explanations relatively simple and deal with each of them in the notes below.
An important point to note for beginners is that some banjos are what are called open back and some banjos have what is called a resonator fitted, this banjo is also called closed back. The open back banjo is a quieter gentle banjo because some of its sound when playing is absorbed by the players clothing.
Whereby the resonator when fitted, helps to push most of the sound forward. Both banjos normally have the same neck and are tuned the same which means that any kind of music can be played on either banjo. However, in the 5-string banjo world bluegrass players like powerful banjos with resonators fitted, whereas old time frailing and clawhammer players like the more gentle sound of the open back banjo.
The 5-String Banjo
The 5-string banjo is the most popular in relative terms due to its versatility and crossover with bluegrass and world folk. it is the easiest to learn to play as in most cases it is tuned to a 'G' chord. When your banjo is in tune and tuned to a 'G' chord. you will produce a musical sound by just brushing across the strings. Some types of popular music that are played on the 5-string banjo are as follows:- Bluegrass, Frailing, Clawhammer, Old Time, 5-string Folk style, Classical etc.
5-String banjo Bluegrass Music style
Bluegrass players choose a powerful banjo that has a resonator fitted. Many bluegrass players play in the style of the USA legend Earl Scruggs. In this style, a thumb pick and two finger picks are fitted to the picking hand which then plays 'rolls' alternatively about the strings in what is called the 'three finger picking style'. With much practise dexterity, solid timing and vibrant attack is achieved in producing the Bluegrass Banjo sound that you hear in American music like Duelling Banjos from the popular film Deliverance.
5-String banjo Clawhammer Style - also closely related to Drop Thumb and Frailing styles
Open Back banjos are chosen by players for this style of 'Old Time' Banjo Music, and to facilitate easier fingering, a number of different tunings are chosen by the 'Old Time' players to pick out fiddle tunes. This style is also most suitable for singers and vocal accompaniment. Thumb picks are generally not used, but some players do use a pick like the Fred Kelly Freedom Pick' or the Perfect Touch Clawhammer Pick instead of the back of the natural nail. This style is very popular in folk and mountain music circles. The desired banjo sound is gentle and mellow, deep and 'plunky' and some modifications can be made to the design of the banjo to give these desired requirements.
On some banjos like the Vega Old Tyme Wonder, the Prucha Old Time, the OME Juniper and Jubilee Models, the Eastman EBJ-WL1 or Gold Tone White Ladye models a 'frailing scoop' is found on the banjo. A frailing scoop means that some frets and part of the fingerboard is removed at the bottom of the neck. The scoop is put there to facilitate the thumb on the 'Clawhammer' hand as it comes down to rest on 5th string and then 'pick' the 5th string. In the same rhythmic movement, the back of the nail on the picking finger … normally the third or first finger on the picking hand picks the tune out on the other four strings. With practise the frailing / clawhammer rhythm can be learnt quite easily by most players.
5-String banjo Folk Style
This style is a combination of clawhammer and "up picking" and was popularized by Pete Seeger. Played without finger picks and usually mixing melody playing with chords. Very often a long neck banjo is used because it may be tuned lower to better suit vocal ranges. There are many variations of this style and may be played on an open back or resonator banjo.
The 4-string Tenor Banjo
Tenor banjos are nearly always played with a plectrum (pick) and can be played in the strumming style along with single picked scale runs. It is the typical banjo for New Orleans style jazz sound or Irish traditional music.
The 4-string Tenor Banjos Jazz and General Styles
The four string banjo has a shorter neck than a five string as the tuning is higher 4C 3G 2D 1A and is an excellent rhythm instrument for jazz bands. A resonator is typically used, since the banjo's sound must be loud and piercing to compete with other instruments in the band. Single string melodies can be played but chord melodies are more traditional. Popular jazz tenor banjo tuning is 4C 3G 2D 1A.
The 4-string Irish Tenor Banjo
The Irish Tenor banjo is the same instrument as a jazz tenor banjo and can have a seventeen or a nineteen fret neck. The shorter neck allows a higher tuning so the songs are better suited to the keys of Irish music (G, D, A, E etc.). The style is played with a plectrum and often played with rapid single string melodies. The Irish tenor banjo can be fitted with or without a resonator, the sound desired is mellow but with attack. Popular Irish tenor banjo tuning is 4G 3D 2A 1E.
The Long Neck Banjo
As an absolute beginner looking at banjos, you might think that all 5-String banjo have a long neck! most do in fact have a 22 fret neck but, there is a specific banjo called 'the Long Neck banjo that was designed by Pete Seeger in the 1960s. this banjo has an extra three frets making it a 25 fret neck and around a 32" scale length (nut to bridge). it is tuned normally to E Which gives the banjo a powerful low tone. The idea of Pete's design was for accompanying his singing in the lower keys, a style that has been copied and sought after by many aspiring banjo players to this very day.
You can place a capo on the third fret of this banjo and play in open G as on a normal 5-string banjo. Check out the Deering Vega Tubaphone and Woodsongs range and the Gold Tone Long Neck available from Eagle Music shop.
The Plectrum Banjo
The neck on a plectrum banjo has 22 frets and a Deering model has a scale length of around 27" (which is slightly longer than a 5-String banjo).
Some plectrum style players will use a five string neck but eliminate the fifth string. A plectrum may be used in jazz styles, melody chord styles or for just playing chord accompaniment for vocals. It can be played with or without a resonator. Players usually use G tuning which is D G B D. However, it can be tuned C G B D or D G B E. The chords are easier to learn than on a Jazz tenor banjo.
Alternative Banjos
These include the six string banjo like the Deering Phoenix, Gold Tone Banjitars etc., the Banjo Mandolin, Bass Banjo, Ukulele Banjo, even Dobro Banjo. Most use a banjo-style body but neck and tuning is the same as the names they simulate. They allow non-banjoists to achieve a banjo tone without learning a new instrument.
Travel Banjo
A travel banjo is a smaller version of a standard size banjo. Check out the Deering Goodtime 19 fret Parlour 5-strings and 17 fret Tenor Banjo models. Also the Gold Tone range of travel banjos.
---
Contact our Technical Department
If you have any questions about the above notes or about banjos in general or any other musical instrument, please contact us and ask to speak to a specialist in our banjo department at Eagle Music shop on 01484 661460
Here we've provided with you some Q&A's to further assist your buying decision.
I want to try before I buy, can I arrange a banjo demonstration in-store?
Answer: You can visit our shop at any time during our normal opening hours. You can make yourself at home here, have a cup of Yorkshire tea or coffee and spend as long with us as you may you need to make your choice. You will be able to try various brands and different banjo models at all price levels to help you make your choice. We have dedicated staff that are banjo specialists and can play all styles of banjo. We will help you to make the right choice of banjo and then continue to help you along your musical path after you have bought from us. We shall always be here for you at the end of the phone to help you with any technical questions.
I'm on a budget, what prices do banjos start from?
Answer: Our banjos start in the region of £150.00 for a beginners model. Any banjo that you purchase from us will be set-up in our workshop by the same technicians that set-up our top end models so you will have no worries about its playability. Our 'Starter Packs' are exceptional value for beginners and include everything in the pack that you will need to get you started.
I'm an accomplished player and would like to move to a professional banjo.
Answer: Build quality and reliability is what defines a professional banjo. For example: Deering Goodtime Banjos that are priced at less than £300.00 are used by many professional players and on the other end of the spectrum many professionals play banjos that are priced into the thousands of pounds....Not only do Eagle Music carry the World's top brands of quality banjos, we also have dedicated staff that play banjo, teach banjo and 'gig' on stage with banjos! So, we are in the ideal position to give you professional advice and help you to make the right choice in upgrading your banjo.
I want to play Irish Music, what type of banjo is right for me?
Answer: Irish music can be played on both the 4-string tenor banjo and 5-string banjo. The most popular banjo for playing tunes and irish dance music eg. Jigs, Reels, Polkas etc. is a 4-string tenor banjo. A 5-string banjo can be chosen to accompany folk songs in the folk style. You can strum along to songs or you can play it in the 'melodic style' with finger picks.
What about after sales and maintenance if I have any issues with my banjo?
Answer: Here at Eagle Music we have an on-site workshop manned by banjo technicians, we set-up and repair banjos on a daily basis. We offer you our best service and a FREE Premier set-up when you purchase a banjo from us. We will look after you as a valued customer after you have bought your banjo and give you our technical support. We shall be here whenever you may need us in the future to service your banjo and will give you our best workshop price quotation for any work that may be needed.
What sort of warranties do banjos come with?
Answer: If you are not completely satisfied with a banjo that you purchase from us, you can return the banjo to us for a full refund or a replacement. Every banjo that we sell has a warranty. Some of the lower priced banjos we sell will have a twelve month warranty. Some of the USA made banjos that we sell have a six year warranty against parts and workmanship and some carry a lifetime guarantee against parts and workmanship.
What about accessories, does Eagle Music sell banjo accessories too?
Answer: We carry a superb range of the highest quality accessories for all the banjos that we sell. Our range of world class accessories includes gig bags and cases, capos, string sets, tuners, fingerpicks and thumb picks, flat picks, tuition books , DVD's etc.
What about banjo spare parts, does Eagle Music sell banjo spares too?
Answer: We offer you a comprehensive range banjos spares and parts including banjo heads and vellums, tuning pegs, armrests, tailpieces, bridges, resonator kits etc. We work closely with all the banjo makers that supply us, and can also obtain any custom parts and retro-fits that may be available.
I want to play Bluegrass Music, what type of banjo is right for me?
Answer: The choice of banjo for playing Bluegrass music is the 5-string banjo. You will play it in the 'Three Finger Scruggs style' with two metal finger picks and a plastic thumb pick. A banjo fitted with a resonator is the choice of most bluegrass players as the resonator will give you the hardest driving banjo and the most volume.
Does the country of build make much difference to the quality of a banjo?
Answer: In short, yes it does. You have to take each instrument on its own values. Just because an instrument is made in the Far East does not mean that it is an inferior instrument. In general quality is relative to price. We choose the brands that we stock and sell very carefully, we would not 'sell you a banjo that does not work'. It is true that a high priced USA made banjo will be a much higher quality than a low priced Chinese made banjo. Also, we offer some banjo brands eg. Gold Tone that are manufactured in China and finally assembled in the USA in general these banjos have improved playability.
I want an American made banjo, which brand should I choose?
Answer: You can choose from USA built Deering Banjos, OME Banjos, Stelling Banjos and Nechville Banjos. Also consider the superb quality of Prucha Banjos made in the Czech Republic. Each one of these World Class brands has its own unique features and characteristics within its range of banjo models. It can be said that Deering is the best choice for quality relative to price in USA banjos due to the efficiency of its state-of-the-art modern banjo factory in San Diego, California, USA where Greg Deering leads a team of fine banjo craftsmen hand finishing each instrument that they build.
Can I trade in my old banjo?
Answer: We can consider what you are wanting to trade in with us. we will offer you the best price and give you our best advice at the point of sale. In many cases you will get a better price by selling your banjo on ebay or by private sale.
If you have any questions please contact us and we'll be happy to help.