When Greg Deering and Jens Kruger got together to design the "ultimate banjo" the expertise of Greg as builder and Jens as performer came magically together. There are two base models available, the Legacy, made of mahogany and the Saratoga Star made out of curly maple.
In 1878 tenbrooks, a racehorse, beat the ever popular Mollie McCarthy by an overwhelming margin in one of the most stirring and memorable races ever to take place at churchill downs, site of the famed kentucky derby. Like the banjo's namesake who outdistanced all rivals, the Tenbrooks banjos have a purity of tone, a deep, low bass that supports all the other harmonics of the banjo. A combination that makes a golden, warm, sparkling sound with a foundational solidity that allows the player the ultimate freedom of expression. Whether hard driving bluegrass or more delicate modern styles, the Tenbrooks gives the player an unprecedented command of the music.
What are the standout features of an Tenbrooks Series Banjo?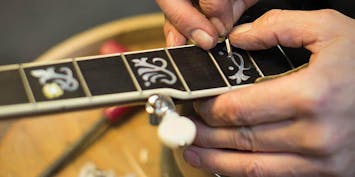 Saratoga Star
Saratoga Star
One of the most elegant and beautiful banjos in the entire Deering range. The highest level of Deering banjo that we keep in stock at Eaglemusic. Inlays designed by Greg himself, very high grade maple and a choice of the Kruger tone ring of 06 tonering make this worthy of the name 'The ultimate banjo'.
Tenbrooks Legacy
Tenbrooks Legacy
Made of mahogany, the Legacy delivers a sweet, warm sound with an uninhibited musicality that effortlessly reaches the audience with a pure and balanced tone, amazingly pleasing to the ear and heralding a whole new musical realm for the world of banjo.The Legacy has a classical Art Deco feel to the inlay pattern, another Greg Deering original design.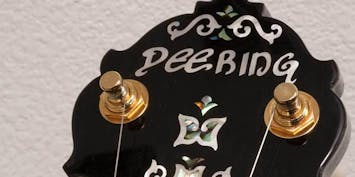 Jens Kruger Bell Bronze Tone Ring
Jens Kruger Bell Bronze Tone Ring
The Jens Kruger tone ring allows for great versatility of playing style, from delicate softness to hard-driving, without being overpowered! The even tone from string to string and more consistent tone regardless of right-hand placement make this banjo a player's dream come true.
Feel the warm, golden and sparkling sound of a Tenbrooks Banjo
Watch Ryan Cavanaugh playing the Tenbrooks Legacy model and Jens Kruger playing the Saratoga Star, regarded by many as one of the best banjos ever created.
Deering artist Ryan Cavanaugh playing the popular salt creek in his own jazzy style on his Deering Tenbrooks Legacy model, here with the superb dobro player Mike Witcher.

The Saratoga Star. Regarded by many as one of the best banjos ever created. And Jens Kruger agrees!