Reserved exclusively as a place for the most incredible banjos ever produced, the Deering private collection is a banjo enthusiast's dream come true.
Whether it is the intricate inlay work of the Tree of Life, the exquisite heel carving and burl walnut of the Ivanhoe, or the luxurious mother of pearl fingerboard of the Gabriella, you will find only unparalleled attention to detail, and the finest craftsmanship in the industry. To achieve this level of quality is a very labor intensive process that uses only the best quality hand selected wood and materials.
Each banjo is a labor of love and the finished results are simply breathtaking. If you are a serious banjo enthusiast, then you should consider a banjo from Deering's Private Collection.
What are the standout features of the Private Collection?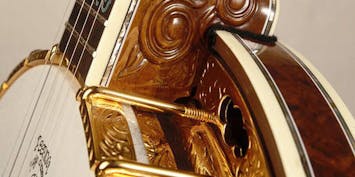 Pure Indulgence
Pure Indulgence
To own a banjo from the private collection is to really treat yourself. Banjos that are both beautiful to look at and beautiful to play. Not really considered a 'working' banjo but a banjo that will take you to the highest level of pleasure and indulgence.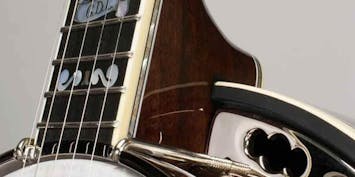 The Greg Deering Limited
The Greg Deering Limited
If it's good enough for Mr Deering himself Greg then it's good enough for you. A banjo that for many years we have stocked at Eaglemusic and also a special one made by Greg for our owner Steve Noon the GDL has it all.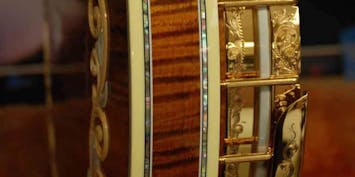 Elite levels of craftsmanship
Elite levels of craftsmanship
There are simply no other banjos available with the amount of intricate details both wood carving and metal embellishing. Years of mastering the techniques have gone into producing some of the very highest level of detail in models like the Ivanhoe, Tree of Life and the famous Banjosaurus. Worthy of the category 'Private Collection'.
Jens Kruger talks through the finer details of the Clawgrass No. 2, and puts it through its paces with some exquisite playing. This video was filmed in April 2019, inside the stunning live room at Double Time Music, deep in the heart of Wilkesboro, NC.
Experience the awesome power of the Greg Deering Limited (GDL) as told by Jens Kruger.