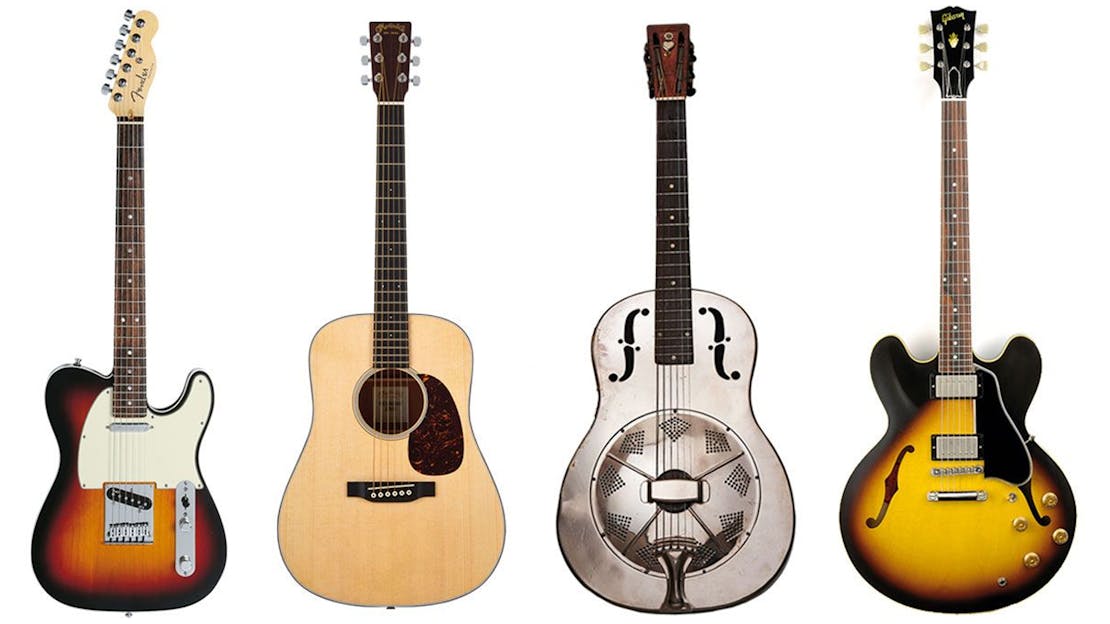 Guitar Buying Guide
We are often asked what's the difference between a classical guitar and a steel strung western guitar? What is difference between an electric guitar and an electro acoustic guitar? Eagle Music demystify and explain all the different guitar types.
Eagle Music explains all the the difference between acoustic guitars, classical and Spanish guitars, all solid timber guitars, laminate top guitars, electro-acoustic guitars dreadnought, jumbo size. Cutaway and what all this means in simple jargon.
There are three critical but simple decisions that you our valued customer should make when buying a guitar:-
Buy from a Specialist Company, that will set up the instrument correctly. Eagle Music is one of Europe's leading acoustic guitar specialist shops.
Buy the Best Quality instrument, that is within your budget. Eagle Music carry one of Europe's largest selection of world class guitar brands.
Choose the Correct Guitar, for the kind of music that you want to play. Eagle Music's specialist musician sales team will ensure this for you
The notes below will help you choose the guitar that is the right model for you.
Recognised as one of the Europe's premier acoustic instrument specialist stores, Eagle Music offers a second to none range of all types of guitar. Along with acoustic and electro acoustic models, we also supply and can give help and advice on pure electric guitars. We offer some of the finest hand-crafted instrument brands that have many models within the range that are built from all solid timber. The leading world class brands that we supply include Patrick James Eggle, Martin, Asher, Gibson, Taylor, Tanglewood, Sigma, Crafter and Yamaha.
These finely crafted instruments will grow to sound better with age, and will appreciate in value in the long term – although it is always a better idea to buy for playing rather than investment! The arrival of Taylor on the top-class guitar scene, with their amazing consistency of quality and modern manufacturing techniques, motivated all the other top makers into their move towards modern production methods, thus ensuring that quality relative to price has moved in the favour of the buyer.
The choice of your first guitar can be daunting as there are so many different guitar types and even more confusing in that there are so many models within a certain type!
From the 1940's onwards the guitar has become the most popular stringed instrument as a first choice for a beginner wanting to play music because it encompasses and complements so many different types of music, including classical, traditional, folk, jazz, rock etc.
To make things easier, we shall explain in our technical sheets below the differences between guitar types. In simple terms the guitar family is divided into two categories:
Nylon Strung
Music played: Classical, Spanish, Flamenco (Also crosses over to folk music). Steel Strung: (Also called Western guitar) Music played: Folk, rock, jazz, funk also crosses over to classical.
Another point to note here is that both guitar types can be supplied in different sizes. eg. a nylon strung classical guitar can be supplied in ½ size, ¾ size or 4/4 full size.
A smaller ½ size or ¾ size nylon strung guitar is excellent for a young beginner because the nylon strings are easier to press down than a steel strung guitar. Many players start their playing life on a half size 'classical' type guitar. All the above guitar types can be supplied with pick-ups already fitted to them. Eg. when a pick-up is fitted to an acoustic guitar it becomes an electro-acoustic guitar. Pure electric guitars in general have a solid wood body and are of no use for playing acoustically.
So, whether you want to be an acoustic street playing solo singer guitarist, on-stage-electric lead guitarist, chord backing jazz player in a dance band, flamenco or classical player there is a guitar that is designed and built purely for the purpose.
We shall explain in the individual guitar technical sheets all the different materials and timbers that guitars are built from eg. laminate top, solid top, all solid timber etc. and shall also explain the different types, shapes and specific sizes of the guitar.
Guide to Buying an Acoustic Nylon strung Guitar
How to choose a Classical, Spanish or Flamenco guitar, which are also called 'Nylon Strung Guitars' are all described here by Eagle Music. Spruce or cedar top? solid or laminate timber? all the technical information you need is here in our technical notes.
Classical – Spanish and Flamenco Guitars
Many guitarists start their playing life on what is called a 'Spanish Guitar', or 'Classical' guitar. This guitar type is generally fitted with nylon strings in the configuration of first, second and third strings in plain nylon and the fourth, fifth and sixth strings metal wound on silk.
We stock a full range of nylon strung guitars from lower priced beginners / childrens models up to all solid timber professional models by various world class makers. The classical guitar has a wider neck than a western type guitar and also has a flat fingerboard. This type of neck with wider string spacing and the nylon strings leans itself more towards 'finger-style' solo melody playing. The wider neck means a little more stretching for the fretting hand but the nylon strings are easier to press down for a beginner than the steel strings on a western type guitar.
Fingerstyle means playing the guitar with the tips of the finger nails. Although nylon strung guitars are best played finger style, they can be picked or strummed with a plectrum.
The general timber used for this guitar would a spruce or cedar top (soundboard) with mahogany, rosewood or other type of laminate or solid timber for the back and sides. The neck is usually made from solid mahogany with a rosewood or ebony fingerboard.
In general classical players like the sweeter tone of a solid spruce soundboard (top) and flamenco music players would choose a cedar top which gives a brighter tone.
See our technical pages for the definition and explanation of laminate and solid timbers that are used for building guitars.
Check out our range of classical guitars from some of the world's top makers Including many models that are made in Spain from Admira and the renowned workshops of B&M, Manuel Rodriguez and Tanglewood.
Guide to Buying an ACOUSTIC Steel Strung Guitar
Steel strung acoustic guitars are available in many different body shapes and sizes all of which have specific names. The most popular is the dreadnought shape.
Some other shapes starting from the smallest are travel, parlour, folk-body, auditorium, grand auditorium and jumbo.
There are other shapes and designs including many jazz guitar models that have 'f' holes and arch topped bodies!
In general, western guitars, as they are sometimes called, have larger bodies than nylon strung guitars. They mostly have narrower necks than classical guitars. They have radiused fingerboards and 'fast action' necks making them and very well suited to single note flat-picking styles. Many singer guitarists use a plectrum and strum along with this type of guitar.
This type of acoustic guitar is the most popular choice for playing pop, folk, country, bluegrass and jazz guitar music.
Electro Acoustic Guitars
Its simple really, an electro-acoustic guitar is basically an acoustic guitar that is fitted with a pickup system.
Steel-strung guitars, and a nylon-strung guitars are available ready-fitted with a pickup system. there are various systems from simple under the saddle transducers to sophisticated models that have what are called 'blender systems' that have a transducer type pickup and an internal microphone fitted that you blend together for the sound that you desire.
You then need to plug your guitar into an amplifier or PA system to get a louder relatively acoustic sound. Six string and twelve string models are available.
Many electro-acoustic guitars are designed with a cutaway body (part of the guitar's body is cut away and missing adjacent the top frets above the 12th …enabling the guitarist to use these higher notes in classic rock 'n' roll style!
In general, it is cheaper to buy a dedicated electro acoustic guitar than to buy an acoustic guitar and fit a pickup system as a retrofit.
However, Eagle Music offers a workshop facility and fits pick up systems to guitars as a service for customers.
All Solid Timber
A guitar that is made from 'all solid timber' means that the back, sides, top and neck are all made from solid timber rather than laminate timber. These special 'timbers' are often referred to as Tonewood or Tonewoods.
All solid timber instruments produce a better quality of tone, more power and get even better as they age. They also hold their value better and in many cases gain value in time.
At Eagle Music Shop we offer some of the finest hand-crafted instrument brands that have many models within the range that are built from all solid timber. The leading world class brands that we supply include Patrick James Eggle, Martin, Asher, Gibson, Taylor, Tanglewood, Sigma, Crafter and Yamaha.
These finely crafted instruments will grow to sound better with age, and will appreciate in value in the long term – although it is always a better idea to buy for playing rather than investment! The arrival of Taylor on the top-class guitar scene, with their amazing consistency of quality and modern manufacturing techniques, motivated all the other top makers into their move towards modern production methods, thus ensuring that quality relative to price has moved in the favour of the buyer.
Solid Top and Laminate Top Guitars
You may have noticed mentions of solid tops and laminate tops. The 'top' is the 'soundboard' of the guitar. Generally, the cheaper guitars have laminate tops, as they are quicker and easier to make. However, depending on the country of origin and the name that is on the headstock, you may sometimes find a solid top less expensive than another brand offering a guitar with a laminate top.
The way a laminate top guitar sounds on the day of purchase will be the way they will sound all through their lives. Many are great sounding and very good value for money.
Solid top guitars, on the other hand, cost more to make, as the choice of pieces of wood is crucial, and the construction has to be more accurate to stop the top bending. But they generally sound far more resonant and produce more volume – and as the wood matures, the sound matures too! About 90% of the sound of a guitar comes from the top (soundboard), so you will often find solid tops and laminate back and sides. This is a good compromise between price and sound quality.
The vast majority of our stock falls into this category. A few short years ago, solid top instruments were produced in small numbers in the USA and Europe, and were demanding very high prices. But in the past ten years or so a host of new companies, first in Japan, then Korea and now throughout the far-east, has changed all that.
Now we have an enormous selection of excellently constructed, affordable, great-sounding solid tops at unbelievable prices. Our Tanglewood Sundance and Heritage range represents the best value of all factory manufactured guitars, many of these models are hand finished. also check out the excellent value range of sigma Guitars Not only that, but western manufacturers. Also Seagull, Simon & Patrick and Norman of Canada are also producing very affordable, excellent quality solid top guitars.
Here we've provided you with some Q&A's to further assist your buying decision.
How often should I change the strings?
Answer: It is fair to say that steel strings die quickly if you have what are called 'rusty fingers'. It also depends on how much you play. In time, steel strings will degrade from the acid and oils on your fingers. (Players with 'rusty fingers' deposit high levels of acid) Strings should be wiped clean after use. The application of a string cleaner eg. Fast Fret' will prolong the life of your strings. A good tip is to keep a spare set at all times in case one snaps when the shops are closed!.
Are there electro acoustic guitars available?
Answer: Yes.Pickups are available to be professionally fitted to your guitar in our workshop or you can buy a factory fitted pickup on a guitar from new. Most manufacturers have electro acoustic models available in their range. Fishman are amongst the most popular pickups and preamps that are used. Your guitar can then be played through your own acoustic amp, at an open mic night or on a professional stage using a PA system.
What is the 'cutaway' for on a guitar?
Answer: A cutaway is a section of the body that has been cut away to enable you to get to the higher frets. Some brands of the instruments offer them with or without a cutaway. Typically a cutaway will be an electro acoustic model.
I want to try before I buy, can I arrange a guitar demonstration in-store?
Answer: You can visit our shop at any time during our normal opening hours. You can make yourself at home here, have a cup of Yorkshire tea or coffee and spend as long with us as you may you need to make your choice. You will be able to try various brands and different guitar models at all price levels to help you make your choice. We have dedicated staff that are guitar specialists and can play all styles of guitar. We will help you to make the right choice of guitar and then continue to help you along your musical path after you have bought from us. We shall always be here for you at the end of the phone to help you with any technical questions.
I'm on a budget, what prices do guitars start from?
Answer: Our guitars start from as little as £99.00! for a Tanglewood beginners model. Any guitar that you purchase from us will be set-up in our workshop by the same technicians that set-up our top end models so you will have no worries about its playability. Our 'Starter Packs' are exceptional value for beginners and include everything in the pack that you will need to get you started.
I'm an accomplished player and would like to move to a professional guitar, what do you recommend?
Answer: Build quality and reliability is what defines a professional guitar. For example: Some Tanglewood guitars are priced at less than £250.00 and are excellent for beginners to improvers, on the other end of the spectrum many professionals play guitars by Tanglewood, Martin etc. that are priced into the hundreds of pounds.
Not only do Eagle Music carry many of the World's top brands of quality guitars, we also have dedicated staff that play the guitar, teach guitar and 'gig' on stage with guitars! So, we are in the ideal position to give you professional advice and help you to make the right choice in upgrading your guitar.
I want to play popular Music, what type of guitar is right for me?
Answer: Popular music can be played on any type of guitar. The most popular box types for most persons is the steel strung Western type guitar. The classical guitar excellent for persons that need a softer feel to the strings.
What about after sales and maintenance if I have any issues with my guitar?
Answer: Here at Eagle Music we have an on-site workshop manned by guitar technicians, we set-up and repair guitars on a daily basis. We offer you our best service and a FREE Premier set-up when you purchase a guitar from us. We will look after you as a valued customer after you have bought your guitar and give you our technical support. We shall be here whenever you may need us in the future to service your guitar and will give you our best workshop price quotation for any work that may be needed.
What sort of warranties do guitars come with?
Answer: If you are not completely satisfied with a guitar that you purchase from us, you can return the guitar to us for a full refund or a replacement. Every guitar that we sell has a makers and Eagle Music warranty.
What about accessories, does Eagle Music sell guitar accessories too?
Answer: We carry a superb range of the highest quality accessories for all the guitars that we sell. Our range of world class accessories includes gig bags and cases, shoulder straps, plectrums, thumb picks, fingerpicks, stands, tuition books, DVD's etc.
What about guitar spare parts, does Eagle Music sell guitar spares too?
Answer: We offer you a comprehensive range guitar spares and parts including strings, machine head tuners, pick guards, bridge saddles, bone nuts, pick-ups etc. We work closely with all the guitar makers that supply us, and can also obtain any custom parts and retro-fits that may be available.
Does the country of build make much difference to the quality of a guitar?
Answer: In short, yes it does. You have to take each instrument on its own values. Just because an instrument is made in the Far East does not mean that it is an inferior instrument. In general quality is relative to price. We choose the brands that we stock and sell very carefully, we would not 'sell you a guitar that does not work'. It is true that a high priced hand built guitar will be a much higher quality than a low priced, low end Chinese factory made guitar.
I want a hand built guitar, which brand should I choose?
Answer: You can choose from Patrick james Eggle, Martin or Tanglewood to mention three of our top class makers. Each one of these World Class brands has its own unique features and characteristics within its range of guitar models.
Can I trade in my old guitar?
Answer: We can consider what you are wanting to trade in with us, we will offer you the best price and give you our best advice at the point of sale. In many cases you will get a better price by selling your guitar on ebay or by private sale.