Eagle Music Shop is based in the tranquil setting of Armitage Bridge, Huddersfield. We are a family business headed by family members Steve Noon and Rachel Price. Our aim is to provide a personal and friendly service, supplying quality musical products at the keenest possible prices. Whether you are an absolute beginner to playing music or a seasoned professional you will find our showrooms and web pages packed with high value musical instruments and accessories sourced and chosen very carefully from the worlds leading suppliers and manufacturers. We offer these to you at the best prices and all this is backed up by a service second to none. We will never be 'knowingly' out-priced, and ask you to let us match or beat any genuine price that has been offered to you.
The foundations of Eagle Music Shop have been built on over two decades of experience in the musical retail and wholesale business.
---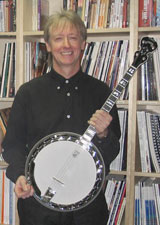 Steve Noon
Banjo Picker! Founder & Business Owner
Multi instrumentalist Steve, founded Eagle Music Shop after working many years in a traditional music business in Cleckheaton, West Yorkshire. Steve gained much experience working with Dave 'Mally' Mallinson and David J Taylor in the happy days of Dave Mallinson Music, specialising in accordions, banjos, guitars and other stringed instruments of all descriptions. When DJT moved to Ireland and Mally formed Dave Mallinson Publications, Steve was joined with two partners and continued to run the business with his family, Joan Noon (wife) and Rachel Price (daughter) for a number of years until 'the course was run'!
Steve, who's main passion is the 5-string and tenor banjo, plays many other instruments to a high standard and is a mine of information in most musical categories. Steve started to play ukulele at an early age then went on to play classical guitar and piano. He was a bugler in a band at the age of fourteen! and played in folk and rock bands in the early sixties. Working as a showband and in cabaret he toured in the late sixties and early seventies as a professional musician with Mark Fender & The Trackers, or as they were described in those days ... 'The North's 'Premier' Entertainers'!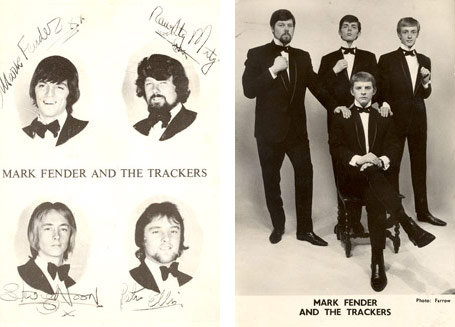 Steve played banjo, octave mandola, bouzouki, mandolin and guitar with Chris Dyson's 'Gael Force' in the eighties and later was the founder of the much acclaimed Celtic rock band 'Gan Ainm' where he was joined with brother in law and guitarist Cyd Ruttle, Hugh Bradley - bass and Jes Fussey - drums. Steve penned most of the tunes and music for their well received album 'The Emerald and The Porter' ... a great band and great times were had!
Over the past twenty years or so Steve has worked with his family ceilidh band 'Mothers Delight' with the line up being Steve Noon – Banjo & Guitar, Joan Noon - Accordion, Cyd Ruttle – Guitar , Tony Ruttle - Mandolin, Mark Mawby – Fiddle & Guitar with callers Ron Darnbrough, Alan Hughes, Hugh and Terry Evans to mention but a few.
Follow Steve on facebook https://www.facebook.com/steve...
---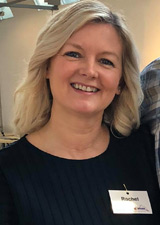 Rachel Price
Partner
Steve's daughter Rachel attends to the every day running of the shop. Accounts, stock control and general administration are just some of Rachel's duties that she carries out in her happy and efficient manner!
Rachel grew up in the musical Noon household with Steve and Joan and explored many musical avenues including guitar, banjo and accordion, she studied piano and reached high grades in examinations …guess who plays for the carols at Christmas time!
On completion of her English literature degree, Rachel came to the shop to work part time and quickly came to love the trade. Rachel is now a firm partner of the Eagle Music business. Working side by side with Steve during this time, and we can say that Rachel knows the Eagle Music business inside out.
Rachel gained much experience working in Cleckheaton as the manager of the old shop and from the outset has brought to Eagle Music Shop all those years of experience in the traditional music business.
Over the years at the shops, Rachel has become an expert on printed music… if it's available, in print, out of print or about to be printed! Rachel will most likely be able to tell you.
---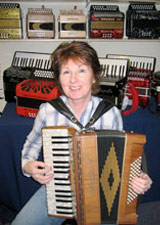 Johanna Noon
Partner
Johanna is a key member of the team and Joan's musical experience makes a great contribution to Eagle Music Shop, at a very young age she began to learn piano and also taught recorder at school. She has a great understanding of most instruments that we sell and specialises at the shop in our accordion department.
Johanna comes from an enviable Irish musical background and was brought up listening to her mum Imelda McMahon-Ruttle a fine piano player and teacher. Joan has a perfect ear for music.
Working with Steve in the old days in Cleckheaton with Dave Mallinson 'The Squeezebox Specialist' you may have met Johanna demonstrating accordions ( Pictured here at Eagle with her Saltarelle 60 bass Clifden piano accordion) or maybe at a festival, fleadh or session. Joan has spent a lifetime in music from her early days. Joan contributes to Eagle Music Shop a wealth of knowledge, along with her warm and friendly Irish personality.
Johanna attends music festivals and trade shows with Steve throughout the year, she is always friendly, approachable and eager to help with enquiries or give you information on the products that we sell.
---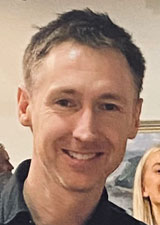 James Noon
Partner
Steve's son James has been involved with the business from the outset, his technical skills have been invaluable in the development of Eagle Music Shop. An eCommerce entrepreneur, James heads his own business Voracio Commerce Ltd and occupies offices adjacent the shop. The Eagle Music website is built upon the Voracio SaaS Commerce Platform. You can visit James' eCommerce platform here.
Working closely with Steve and the team, James and his team at Voracio have has designed and built the Eagle Music Shop website. James is involved on a day to day basis for all internet functionality.
Growing up with music in the Noon family home, in his youthful years James took fiddle lessons from folk hero Tom McConville, he also played bodhran and guitar. In later years James has continued to be involved in the music industry as a DJ, promoter and producer, having been involved with several events for the iconic Manchester nightclub The Haçienda. All this has given James a great feeling for music which shows through in the Eagle Music Shop website.
---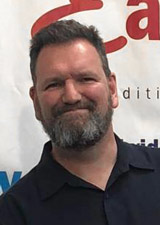 Matt Chaffer
Sales, Teaching, Festivals
When it comes to enthusiasm about banjos, no one could be more enthusiastic than Matt! After twenty years working as a precision engineering skilled fitter, Matt gave up his day job to set off with his Deering Sierra Banjo, and his partner Yvonne to tour the USA in a motor home! They spent many a happy hour in the USA busking from New York to Florida and took part in lots of jam sessions along the way.
Now working at Eagle, in our sales departments, workshop set-up and festivals... Matt fuses together his engineering and musical skills. Along with playing banjo, Matt also plays mandolin and harmonica in his repertoire at open mic nights and local gigs. Honest, caring, warm, friendly and easy to approach is how we describe Matt, so when you meet him around the shop, you can be sure to get the service and honest advice that you need.
---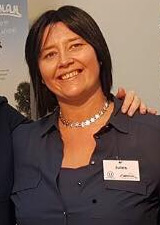 Jules Hirst
Mail Order Manager
Jules is a jewel in our crown! Very efficient, organised and conscientious about the Eagle office. Jules is warm and friendly and always here to help you at the end of the phone to track or give you a 'heads up' on your order.
Trained in accountancy, Jules is a valuable asset to Eagle and can quickly work out your enquiry regarding shipping charges, and the quickest way to get your goods to you. You can also call Jules on 01484 661460 if you would like to discuss and find out the details of our Arts Council 'Take it Away Scheme'. With this Arts Council Scheme. you can 'Take Away' musical instruments on interest free credit.
---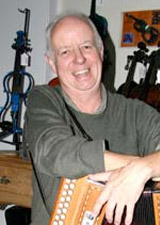 Alan Hardwick
Workshop, Sales & Accordion Department
An extremely talented multi instrumentalist playing D/G Melodeon, B/C button accordion, guitar, banjo, fiddle and mandolin, Alan is a valuable part time member of staff in our repairs and accordion departments and also works part time with our sales team, Alan can tap on his many years of musical experience to offer invaluable advice to our customers. You can make an appointment to see Alan during one of his days at the shop.
As a left handed player, he can also get a tune out of a right handed banjo or guitar 'upside down', but amazingly he plays squeezeboxes right handed!
Alan's musical career spans almost forty years playing English music with the 'Moon and Castle' band, jazz, country, American old-time with 'Harpers Ferry Ramblers' and the 'Original Preservation String Band' and Irish music with 'Eavesdropper', 'Irish Nite' and the 'Elmet Border Band'. He has played fiddle and D/G melodeon for the Colne Royal Morris dancers, played guitar, banjo and mandolin in a country band and plays B/C button accordion and tenor banjo regularly with his present ceilidh band 'Phoenix'. Alan love for music also finds him as a regular attender at local music sessions in the Yorkshire area.
In his early days, Alan's spare time was spent at Arthur Hunt's instrument repair workshop at North Street, Leeds. As a musician and later as the owner of a fine craft furniture making business, instrument set-up and repairs were natural progressions for Alan. His skills and knowledge are a great asset to our company. Nothing is beyond Alan's skills in our workshop as he heads our team carrying out set-ups and repairs on all manner of instruments. If you break your neck, Alan can fix it.
---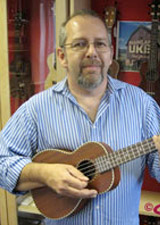 Gary Collins
Sales, Workshop, Teaching
Specialising in our Ukulele department, Gary is a multi instrumentalist that also plays guitar, banjo, dulcimer and mandolin. In our teaching department, Gary is our key Ukulele teacher. He has a thoughtful friendly nature to put customers and students at ease, he enjoys teaching and passing on his wealth of musical knowledge to all. Gary has performed in various bands over the years and gained much gigging experience.
---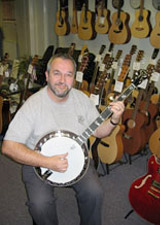 Graham Holt
Sales, Teaching, Festivals
With over forty years of musical teaching experience, Graham is a key member of our 'In House Teaching Team' and brings to Eagle Music a wealth of musical knowledge having being absorbed in music for most of his adult life. Graham plays many instruments to a professional standard but specialises in 5-string banjo and guitar ...a fine teacher of both instruments.
Graham has a very warm and friendly nature which sets him in fine stead as a musical instrument teacher, he is very relaxing to pupils and is always eager to pass on his musical knowledge.
Graham is a fine classical guitarist, he has also 'gigged' for many years playing electric guitar in a number of bands and can give you 'sound' advise on the choice of many instruments. Graham still performs regular at open mike sessions playing 5-string banjo and guitar.
---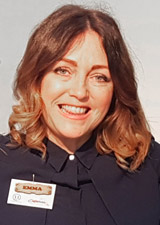 Emma Siwczyk
Shop Sales & Mail Order
Emma is a valuable member of our staff working on administration, internet and mail order sales. If you meet her at the shop, she is the first person to offer you a cup of tea or coffee!
Emma comes from the musical McNab family and is proud to be the daughter of Paul McNab the founder and owner of Paulman Guitars. Emma has learned about guitars and the jargon of music from an early age!
---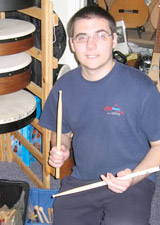 Sean Jessop
Warehouse & Dispatch
Sean joined us in 2008 with experience from working on sales in the local music business, dedicated, reliable and conscientious, Sean ensures that your internet/mail order instrument will arrive with you well packed and in 'tip top' condition.
Sean has worked in the music business for a number of years learning the skills of the trade. You may have met Sean in his earlier years when he worked for the 'Williams' group.
Sean's part time musical interests include listening to modern music and playing the drums and keyboard.
---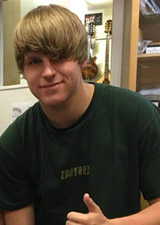 Reuben Munroe
Shop & Website Admin
Meet our Saturday lad Reuben who is the youngest member of our team and joined us in 2019 when he was just 15! He is a very good acoustic and electric guitar player and has been in several bands from a young age. If you visit us on a Saturday you may also hear Reuben singing away as he keeps the instruments all tuned up with care and attention.
---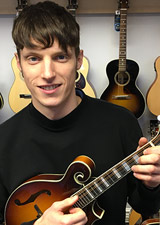 Lucas Bernard
Shop & Website Admin
Lucas is the newest member of the eagle music team, joining us in February 2022. Originally from France, Lucas moved to the UK 10 years ago to further his musical career as a full time gigging and recording musician. He already has a good number of years under his belt as a singer/songwriter playing acoustic and electric guitar, keyboards, mandolin and harmonica. The banjo is also now on his list of instruments! Lucas brings with him a fresh young approach to the ever growing team at Eagle Music.
---
Other Members of The Eagle Music Shop Team
The Eagle Music Shop service and repair team are second to none, we are also working very closely with some of Britain and Ireland's finest instrument builders and craftsmen.
Part time staff and festival helpers at Eagle Music Shop are also chosen for their musical ability and knowledge, they also bring to Eagle Music Shop a wealth of musical experience.